Since 1989,
offering automation solutions
DAKOL is a genuine Brazilian company!
Founded in 1989 in São Paulo, DAKOL provides cutting-edge industrial, building and infrastructure automation solutions to the most demanding customers and applications
The increasing market need for data acquisition, control, visualization, logging, data transmition and remote access solutions turned DAKOL into a specialized provider of modern and State-of-the-Art products and services for these areas.
With more than 4,500 customers around Brazil and with complete Support, Training and Technical Assistance infrastructures, DAKOL is continuously focused to provide full services to our customers.
Technologies
The technological partnerships we developed during the years
DAKOL develops solid and long standing partnerships with our technology providers.
All our professionals are fully capable to provide outstanding technical and commercial support.
Our partners provides State-of-the-Art visualization, control, logging, transmition and remote access solutions.



Services
provided by a specialized and competent team
DAKOL presents specialized teams composed by technical and engineers with deep knowledge of the entire product line as well as ensuring they have a wide experience at a broad range of industrial, building and infrastructure applications.
Committed to the customer with satisfaction, DAKOL offers full technical support for the application of its solutions at its modern facility or in the field throughout all the Brazilian territory.
infraestrutura
com moderno laboratório, centro de treinamento e showroom
A DAKOL conta com um moderno LABORATÓRIO equipado e dotado dos mais avançados recursos tecnológicos possibilitando simular as mais diversas aplicações incluindo a integração com equipamentos de terceiros.
Com uma ampla área, o moderno CENTRO DE TREINAMENTO da DAKOL está equipado com modernos recursos audiovisuais e jigas de testes que possibilitam aos usuários uma incrível experiência e possibilita absorver conhecimento dos nossos especialistas.
Nosso SHOWROOM apresenta toda a gama de produtos possibilitando o manuseio e operação das nossas soluções. Um ambiente confortável e estruturado para um atendimento especializado aos nossos clientes. Sua visita é sempre muito bem vinda e acompanhada pelo nosso suporte técnico.
Aguardamos a sua visita !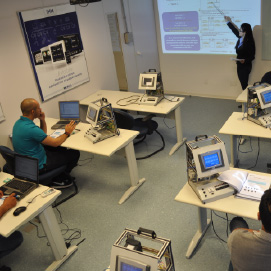 "Não perdemos negócios graças ao apoio da equipe de vendas que nos ajuda na melhor especificação e no preço agressivo para a venda final, aliado a versatilidade do CLP. Estamos obtendo números expressivos de vendas."

Status